Everything looks great. But I should have expected that. In the 6 years or so over which I've been doing business with Colony Home Improvement Inc. I have never ever been disappointed. Thanks for your can do attitude!! And always professional service. your the construction company to call for all our whole house remodeling needs.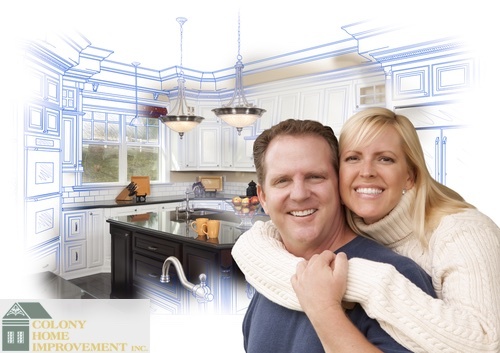 S. Bagali
Lenny

Thank you once again for all your help. Please thank Pat and the rest of the crew for me for another beautiful job. Being a woman alone, it's nice to know you can count on someone for honesty and dependability.
A Raneri
Dear Lenny,

I am writing to tell you of the difference your vinyl windows have made in our home. You installed the windows during the winter months, and I immediately noticed how much warmer and quieter our home was, and using much less oil. Now it's summer and we've noticed how much cooler our home is using less air conditioning. We are very comfortable and wish to thank you so much for your excellent service and quality windows.
L Scales
My bathroom is absolutely beautiful. It was very high quality work, and completed on time. I definitely got more than I paid for!!! Thank you!
D. Neth
To Whom It May Concern:

About a year ago, I contacted several builders about adding a kitchen addition onto our home. After many years of hearing nightmare stories from others about bad experiences with builders, I was somewhat apprehensive to say the least. Only one of the builders I spoke with impressed me and gave me a feeling of confidence in his ability to complete the project to my satisfaction. That person was Lenny Gillis of Colony Home Improvement Inc. Lenny responded immediately to my inquiry and carried me to see examples of his work.

He is honest, trustworthy, a tireless worker and very knowledgeable of his field. Lenny is a man of his word and a true professional. My kitchen addition was completed in a timely manner and turned out more beautiful than I ever expected. Not only did I improve my home, but I also gained a new friend, Lenny Gillis.
K. Niedzwicki
If you're looking for a home remodeler, let me tell you about Colony Home Improvement, Inc. We were totally satisfied and impressed with the professionalism and quality of work provided by Colony Home Improvement on our remodeling job about 9 years ago. As a result of that experience, when we decided on a major home renovation project, our first and only contact was Lenny Gillis at Colony Home Improvement, Inc.

The project consisted, in part, of adding a sunroom, a 2 car garage, family room, master bedroom with master bathroom, and complete remodel of our kitchen. We wanted a contractor who would be creative in providing ideas and suggestions, and who would offer the quality of service we demanded.

Our project is now complete and we could not be more pleased with the end results.

Colony Home Improvement, Inc. is committed to providing impeccable service and quality to their clients.

We can attest to the exemplary workmanship and professionalism that Colony Home Improvement, Inc. will offer to anyone seeking the highest standards in home remodeling.
B. Mc Isaac
We just wanted to say thank you to you for the wonderful job on our shed dormer addition and new bathroom. It's exactly what we wanted and more. You have a great eye on how to make everything come out just right. You did a great job addressing all of our needs! We hope to work with you again in the future. We are so pleased!
E. Lindford
We spent a lot of time interviewing a number of contractors before finally settling on Colony Home Improvement, Inc. We found their crews to be professional craftsmen who were always on the jobsite on time and would clean up before they left each day. Any time there was a minor problem, it was handled quickly and efficiently. They were always a joy to work with. We were pleasantly surprised by how well everything fell into place. The project was even completed ahead of schedule! We are pleased! We won't hesitate to recommend you to our family and friends. We've already been talking about your work to everyone!
J. Muir
I am writing this letter to praise Lenny, Pat and the rest of the Colony Home Improvement team for the hard work they did for our family. My wife and I wanted a new family room and master bedroom suite for our home, as well as kitchen remodeling. We found the entire crew to be fabulous through all of the steps needed to complete our home to our satisfaction. Everyone we dealt with was knowledgeable, courteous and hard-working. Our home looks incredible! Throughout the process, we were contacted by Lenny, Pat and Kenny to ask about what we wanted, and they made sure it happened. Our home was kept clean and orderly throughout the work period. If you want a home improvement company that is reliable, prompt and offers high quality work, we recommend Colony Home Improvement. You won't be disappointed!
C. Spaulding