What's your favourite fashion era?
I never thought I'd say this but I'm loving the '90s and noughties. The crisp mum jeans, the shirting, the oversized blazers …
What's your fragrance of choice?
Matiere Premiere's "Parisian Musc".
Can you remember a favourite outfit from when you were a child?
Yes, because my mum keeps reminding me! It was a red corduroy pinafore dress that I wore with a Peter Pan-collar blouse when I was three.
And your worst fashion mistake?
Pretty much all of high school. One that stands out is an aqua-blue Kookaï boob-tube dress with terrible triangle-bikini-top tan lines that I wore to a boy's school dance.
What was your first fashion moment?
Growing up, my parents were close friends with Mark Keighery, of fashion label Marcs. It was the early 2000s and he gave me all the samples from his "Baby Doll" collection. I was at boarding school and it was very conservative – the girls wore jerseys and boat shoes – and I returned wearing very low-rise denim jeans and a polka-dot halter-neck top. Everyone's jaw dropped but within weeks all the girls were wearing the same thing.
What are you currently coveting?
The Row's camel-coloured, double-breasted "Natere" blazer.
Is there a current fashion you like?
I favour timelessness over trends and I'm a huge advocate for the wardrobe capsule concept. I invest in key pieces and rotate them with a curated collection of ready-to-wear bags and shoes that I change seasonally.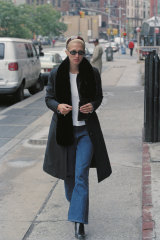 What handbag do you use most often?
A Fendi tote. And I take a Casa Catinella basket everywhere. I've got a two-year-old and I also carry samples around for clients, so it's handy.
And shoes?
Black loafers – I love Gucci and The Row. I call them my school shoes because I wear them every day. If I'm going out, Chanel slingbacks. They're comfortable and not too high.
What do you wear to bed?
Bond Street silk pyjamas in white with black grosgrain trim.
Who's your favourite fashion icon?
Going back to the noughties, Carolyn Bessette-Kennedy was effortlessly chic.
Loading
What do you wear on a typical working day?
Jeans and a tee, with a blazer on hand for meetings.
What's your favourite off-duty, casual Sunday look?
We recently moved to Bondi, so it's very casual: a Lucy Folk minidress and Proenza Schouler Birkenstocks. I'll throw on an Albus Lumen dress if we're going out for lunch.
To read more from Sunday Life magazine, click here.
Make the most of your health, relationships, fitness and nutrition with our Live Well newsletter. Get it in your inbox every Monday.